Fennome to Go
​​​Due to Popular Demand…
We offer fennome baked and ready for you to enjoy!
Three delectable fennome served in their own elegant serving tray
Jams include:
Apricot
Blueberry
Raspberry
Strawberry
Great as a midafternoon snack or with a morning cup of coffee or tea.
Just enough to delight your senses and indulge your tastebuds.
Bake at Home
Mmmmm! – our newest addition to our line –  a little 3×5 "recipe box" packed with a dozen of our ready-to-bake Hungarian pastries. When you open the little box,  instead of a traditional recipe card where you must do the measuring, mixing and rolling, we've made home pastry baking as easy as it gets.We've packed our sweet recipe box with a dozen ready-to-bake  fruit filled fennome, and also included the demerara sugar and a sheet of parchment paper.  And for those times you are just baking for yourself or you and a friend or family member, we packed a 1/2 dozen fennome in 2 individual bags making it easy to bake fresh just what you need. Heirzoom Bakery does most of the work, you just need to dip the pastry tops in the demerara sugar, arrange the pastry on a parchment-lined baking sheet and savor the delectable buttery aroma as they bake. Anytime you'd like to treat yourself, family or friends to freshly baked little indulgent pastry jewels,  just pop fennome into the oven for 18 to 20 minutes.
Currently only available in the greater Philadelphia area, New Jersey, and Delaware
(ships by ground transportation)
Available in:
Apricot Ginger
Blueberry
Raspberry
Fennomenal for:
A relaxing afternoon break with a fine cup of coffee or tea
A delicious change of pace to simple crackers when enjoying your favorite cheese and glass of wine
Adds the wow factor to any dessert platter
The perfect ending to a spectacular gourmet meal or just a simple everyday meal!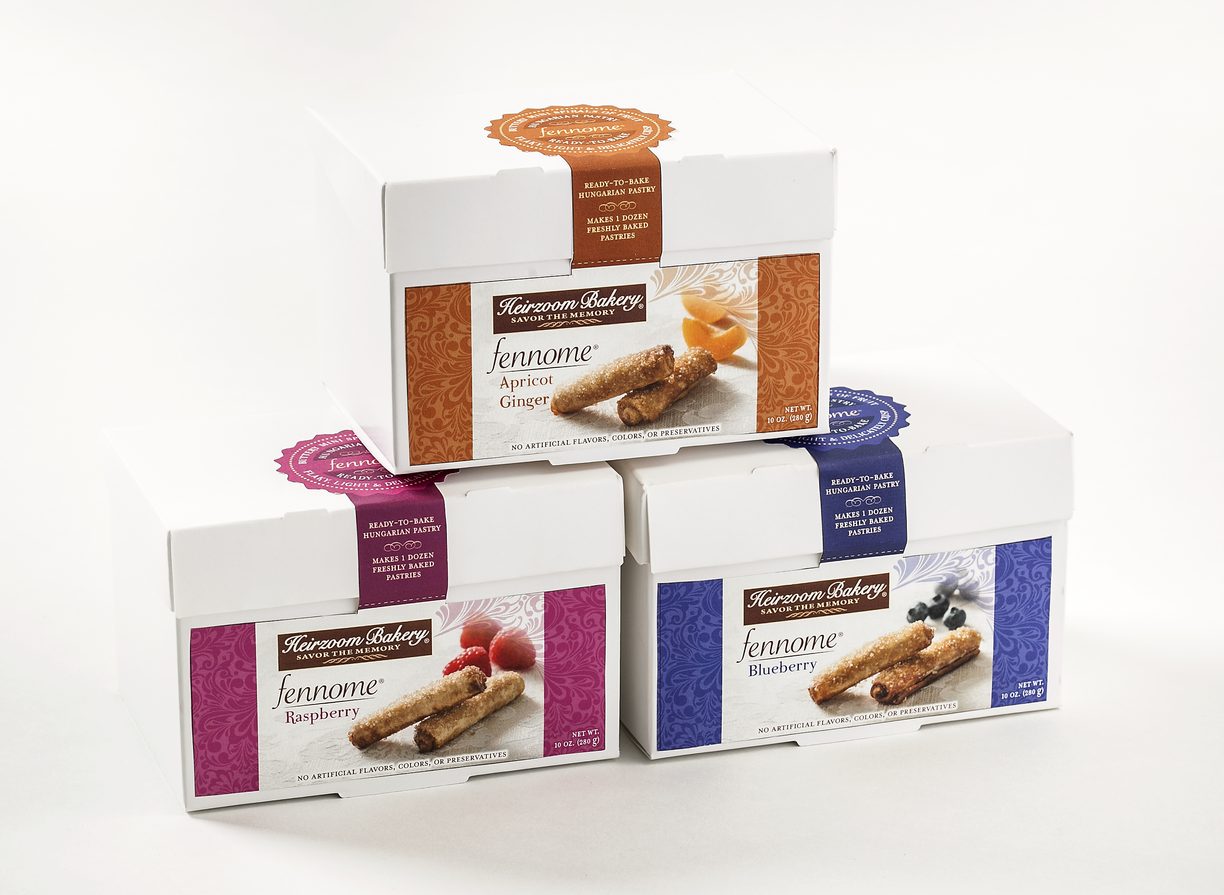 For Chefs and Caterers – Frozen – Ready-to-Bake
​​​​​​​​​The ultimate in freshly-baked convenience and delectable quality for the food service marketplace.  Heirzoom Bakery has done most of the work! We do all the  measuring, mixing, sheeting and filling.  As the chef, cook or caterer, you just need to do the baking and presentation.
Fennome goes right from the freezer to the oven and only takes 18 to 22 minutes to bake 48 pastries.

Each case contains 96 fennome.
Delectable satisfaction in 2 to 3 bites…indulgence without the guilt! ​​
​Labor saver – no measuring, no mixing, no rolling, no cutting…From scratch hand-crafted quality made easy
Versatile – Great for planned or spur of the moment occasions…Breakfast, brunch, dessert, snack, afternoon coffee/tea, a late night gourmet luxury
Irresistible aroma – Will tantalize taste buds as they bake and bring your customers back to the comfort of an old-fashioned baker's kitchen – the ultimate aroma therapy
Inventory control – Bake as many as you need. High traffic day, bake more; low traffic day bake less, minimal waste. Always fresh when you need to impress, Ready to serve unexpected guests and customers
Customizable – Garnish your way…
Bake and drizzle with melted chocolate or caramel
Sprinkle with confectioners' sugar
Dip end in chocolate
Plate with fresh berries
Roll unbaked fennome in sugar crystals or finely chopped nuts
With your imagination, the possibilities are endless!
Complementary…
Great addition to a Dessert Sampler
Adds the WOW factor to cookie trays
The perfect accompaniment to a relaxing cup of tea, a rich cup of coffee or with your favorite glass of wine